Contact us to discuss your specific needs in order to give the best advice on the system that is right for you.  
Below is some information regarding electrostatic spray systems and some questions that you should consider before purchasing a system.
What is electrostatic painting?
The history of electrostatic spray guns
Electrostatic technology is not new, it started to be used with applying paint around 1938. The first system applied an electric charge into liquid paint, as the paint was sprayed from the gun the atomized paint particles were attracted to the grounded metal objects. Very little paint was wasted in the air. The charged, atomized paint particles that went by the object being painted would actually change direction in midair, turn back and coat the back side of the grounded object.
Why use electrostatic painting?
When using conventional air atomizing spray guns, suction fed or HVLP, the sprayed paint only goes to the surface area directly in front of the spray gun. Typically, suction fed spray guns can only give you about 38-45% transfer efficiency and HVLP spray guns typically can only give you about 40-48% transfer efficiency. The charged, atomized paint particles from an electrostatic spray gun wraps around the object(s) which causes for a much higher transfer efficiency and paint overspray is reduced.
System setup, painter technique, paint selection and spray gun nozzle selection is crucial in attaining high transfer rates.
What can I paint?
If you are painting items made from steel, brass, aluminum, copper, round or square tube or bar stock such as:
Fencing, railings and gates constructed of chain link, pipe, square or round bar stock
Motorcycle frames and related components
Cars, trucks, vehicle frames, sheet metal and suspension components
Aircraft fuselage and control surfaces, landing gear
Aviation related ground equipment
Metal buildings
Steel and aluminum wheels
Restroom Partitions
Elevators
Storage Units
Playground Equipment
Wire Products
Shower Stalls
Lockers
Office Furniture
Grocery store food display cases
Files Cabinets
Desks
Bookcases
Shelving
Dental, Hospital & Manufacturing Equipment
Windows and Door Frames
Store Fronts, and Canopies
Awning frames
These are just a few to mention, an electrostatic applicator can provide major benefits in less paint material being used along with less labor needed to apply the coatings.
Non-conductive items can also be sprayed electrostatic by first applying a conductive primer.
Wood items can be sprayed electrostatically if the there is enough moisture content in the wood.
Airless electrostatic spray versus Air atomizing electrostatic spray
Airless Spray or Air-Assisted Airless Spray (electrostatic)
The major difference between the two is that airless spray uses very high liquid paint pressure to achieve atomization of the paint. The paint is forced through a very small orifice anywhere in size from .005" to .035" under pressures from several hundred to several thousand psi. It is the high pressure forcing the liquid paint through the small orifice that causes atomization of the liquid. The shape and size of the spray is determined by the size and shape of the orifice.
Airless electrostatic requires a high pressure pump, high pressure filters and high pressure hose. Typically the airless system is supplied paint from five or fifty five gallon and even larger containers. There is a multitude of different ways to set up an airless electrostatic spray system, it depends upon the type of coating that you want to apply.  There are basic systems that are comprised of a high pressure paint pump, the filters adequate for the spray tip orifice size, the electrostatic air assisted gun and the hoses, these are used for applying a single component coating but they can also be used to apply two component epoxies as well as catalyzed finish paints but the user must keep track of the pot life of the catalyzed material to prevent it from hardening inside the pump, paint hose or spray gun.  There are also paint pumping systems specifically for applying plural component materials requiring a catalyst such as epoxies, acrylic enamels and polyurethane enamels.  Your specific needs will determine what type of equipment will be best suited.  The variables are too many to discuss here.
Airless electrostatic systems are best suited for painting large behemoth objects like train rail cars, semi-truck trailers or large heavy lift cranes where large quantities of paint will be used. The Graco AA4000 guns were used to paint the British Airways Concord Supersonic jets.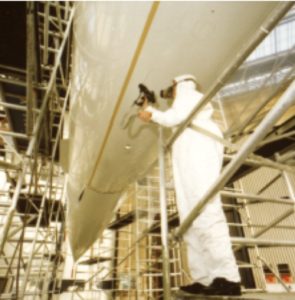 The AA4000 has been obsolete for a number of years now and has been replaced with the current models which are the XP60AA and the XP85AA series electrostatic air assisted airless guns. The XS3AA and XS4AA were the predecessors to the XPAA series and are still available.
Air Atomizing Electrostatic Spray
Air atomizing electrostatic spray guns like the Graco Pro3500SC, Pro4500SC, ProXs2, Xs3, Xs4 and ProXP40, ProXP60 and ProXP85 all use compressed air in conjunction with the air cap at the front of the spray gun as a means of atomizing the paint and shaping the spray pattern.
There are only four things necessary to use these guns:
The electrostatic gun
A means of supplying the paint and compressed air to the gun
A source of clean, dry compressed air
A known good earth ground
A paint that can be effectively used with electrostatics.
In choosing which E/S gun is best suited for you there are some decisions that you need to make first
Which gun is going to be best suited for what it will be used for?
Will I be painting outside or inside a building or a dedicated spray booth?
What types of paints will I be applying?
Do I need a gun that has a high conductivity kit?
Do I need a gun with a digital Smart display?
Do I need and internal mix or external mix gun nozzle?
Choosing what is the best means of supplying the paint to the gun.
Do I want a paint tank or a low pressure paint pump?
What size paint tank is best suited for my application? 2-1/2 Quart / or larger
Do I need a stainless steel paint tank or a zinc plated paint tank?
Do I need an air driven paint agitator?
Do I need a paint tank having one or two air control regulators
What length hoses do I need to go from the paint tank to the E/S spray gun?
What are my choices for paint and air hose
Choosing what is the best supply of clean dry compressed air.
Do I need a stationary or portable air compressor
What size air compressor do I need? HP, tank size, etc.
Do I want a refrigerated air drier or a desiccant air drier
No matter what the location or the circumstances you must be able to attach the grounding wire from your electrostatic spray system to a known good earth ground. You will also need to run a separate grounding wire from the object being painted to your known good earth ground.
What needs to be grounded when using electrostatic guns?
All of the equipment, personnel and items being sprayed must be grounded. Any ungrounded object, or person, in the spray area can become electrically charged. Improper grounding can result in static sparking which can cause fire or electric shock.
Will applying coatings using electrostatics give better adhesion of the coating?
No, applying coatings using electrostatics will only give better transfer efficiency.
The adhesion between the coatings and the substrate is dependant upon the condition of the substrate, how it is prepared and the properties of the coatings selected.
Properly prepared substrate surfaces is the primary key to a high quality finish.
 Can waterborne paints be sprayed electrostatically?
Yes, but the selection of the gun and related equipment is crucial
---
What's your return policy?
Every spray gun is tested prior to being shipped to ensure that it performs as it is suppose to.
Since hoses are made to order, and spray guns may have special features installed, each system is fully tested prior to being boxed for shipping to insure that all components of the system are functioning as they should.   Since we have no control over the user having clean dry compressed air which is regulated, damage can easily occur to the turbine alternator if water, moisture or particulate matter are allowed to enter the air inlet of the spray gun.   We do not accept returns for refund.
We stand behind everything we sell.  Refurbished spray guns come with a six month warrantee.  New spray guns come with a one year warrantee. If there is a failure of the spray gun, tank component or hose as a result of normal use it will be up to our discretion to repair or replace the component.  Normal wear items are not covered under the warrantee because they wear out from normal use and can prematurely wear out from misuse or neglect.  Normal wear items in the spray guns are:
Electrode needles, fluid nozzles, packing rods, packing rod seals, turbine alternator bearings, "O" rings.
If the failure is a result of misuse, neglect or inadequate maintenance it will be the customers responsibility to pay for the cost of repair and shipping.
---
Do you ship oversees and to P.O. boxes?
Yes, we'll ship your package anywhere that can accept deliveries and a person can sign for acceptance of delivery.
WE WILL NOT SHIP TO A P.O. BOX
---
Do you have customer service?
Our friendly and knowledgeable customer services reps are available to answer your questions Monday through Friday 9am to 5pm Eastern Standard Time.
CAN A SYSTEM BE DEMONSTRATED PRIOR TO BUYING ONE?
Yes,  we can come to your facility and perform a demonstration of the same model spray gun that you wish to purchase. Contact us regarding the details.